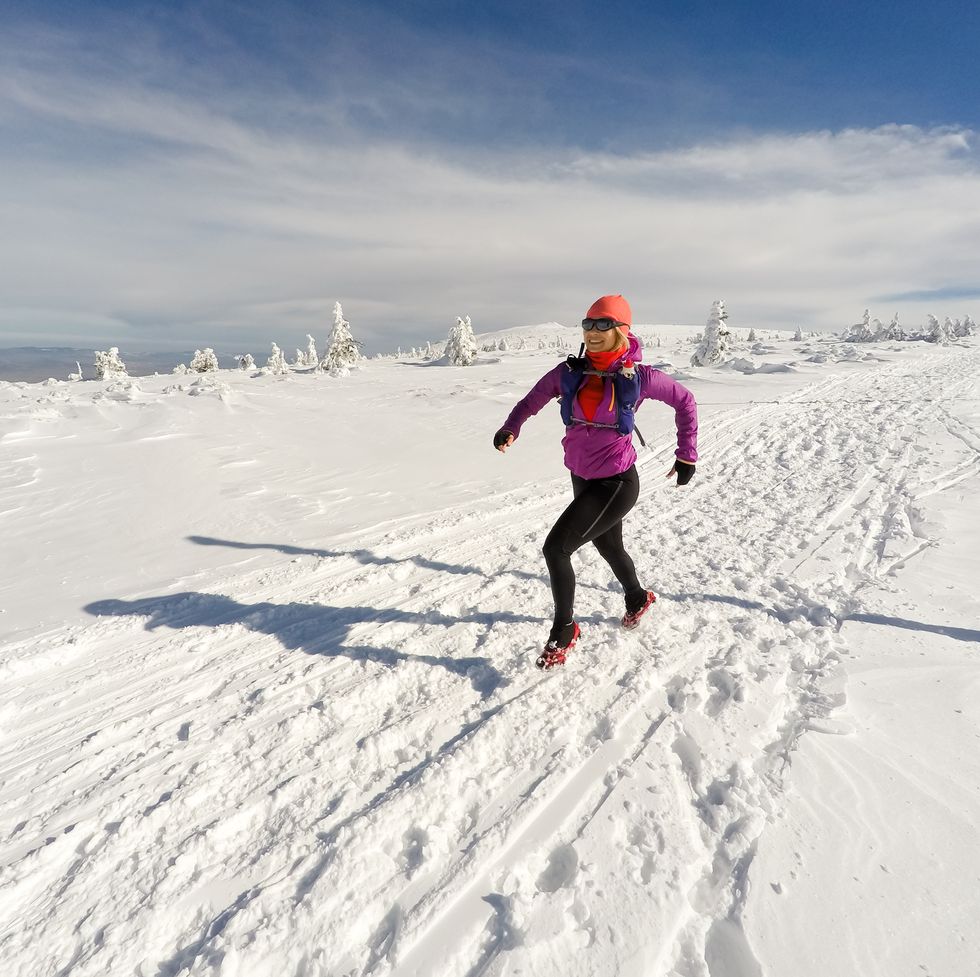 Use these tips when you want to clock miles on snowy wooded paths.
Runner's World | February 2022
Read the full story at runnersworld.com.
Whether you're running on snow-packed dirt roads, fluffy singletrack through wilderness, urban park trails, or groomed routes for snowmobilers or Nordic skiers, winter trail runs offer a refreshing joy and challenge.
"Trail running in winter can be a different, exhilarating experience—and fun. A lot of times that can mean running at night and dealing with the conditions is part of the game no matter what the temperature is. If you know how to prepare and feel safe, you don't have to feel limited by winter weather," says Amie Dworecki, head coach and CEO of Running with Life.
Kari Gibbons, a two-time finisher and the 2021 women's foot champion of the 350-mile Iditarod Trail Invitational, agrees and adds, "I've always loved that feeling of being warm outside on a run when it's cold. The mental side is the hardest part. But working through winter trail run challenges can make you stronger in your summer runs."
Here, tips on how to safely plan a winter trail run according to experienced winter athletes, coaches, and race directors. Plus, a few trails across the U.S. worth checking out.
Start With Shorter, Less Remote Trails
Snowy landscapes are serene but can be disorienting, especially if you're not well-versed with the surrounding landmarks.
"Get really familiar with a shorter trail before you branch out on longer trails. Everything is white and looks different in winter," says Dworecki, who is also an RRCA-certified run coach, based in Indiana.
In addition to navigation, your body also needs to adjust to the new terrain. "Winter trail running surfaces can be more strenuous, because you're using more core stabilization and balance," says Dworecki. She recommends cutting your distance in half at first to see how your body responds. You don't want to be sidelined due to fatigue or move super slow in cold weather—which can lead hypothermia or frostbite—if you try to tackle mileage that ends up being too rigorous.
Adjust Your Layers and Cover Skin
For winter runs, Gibbons has a one-hour rule. "If the run is longer than one hour, you don't want to soak your layers in sweat. If you're wet, you'll be in trouble," says Gibbons.
Too few or too many layers and over-sweating can lead to hypothermia, adds arctic ultrarunner Martin Like, the creator and race director of the 6633 Arctic Ultra in the Canadian Yukon territory.
The key: micro-adjustments to your layering system. "Heat regulation and venting will allow you to run longer and be safer, because you're not drenched. All my layers on top have zippers and hoods. If I'm trail running and see a hill, I unzip a couple of layers or take my hat off (I wear two light hats instead of one thick one). At the top of hill, it's blustery, and I zip back up," says Gibbons.
Like agrees, "You don't want to think, 'I'm getting warm and I'll just get to top of hill.' Then you've done too much sweating, and it's too late. Deal with the heat management scenario there and then. Don't put it off."
Against the skin, wear a thin sweat-wicking, quick-drying base layer, says Like, such as the Tracksmith Brighton Base Layer. Like does not recommend wearing a waterproof jacket as an outerlayer, "because they do not rid moisture quick enough." Instead, look for an active insulation outerlayer that helps to regulate body temperature while dumping body heat, like the Daehlie Jacket Winter Run 2.0 or the Arc'teryx Atom LT Hoody.
Dworecki adds that you should wear gloves or mittens, a hat, and bring a waterproof or warm outerlayer in a pack, just in case you need to stop. "If you're lost or standing around navigating, you don't want to get cold," she says.
Also, exposed skin—such as on your fingers, ears, or nose—can lead to frostbite, so make sure you have everything covered if the temperatures are freezing and consider windchill, too. "Frostbite can sneak up and is a risk if you need to stop on the trail. If your exposed skin starts to turn red or white or is turning numb, be aware of that sign," says Dworecki.
"If your running partner's speech is slurred or they're shivering uncontrollably, get out the foil blanket, use your cell phone, and get inside as soon as possible," she adds.
Wear Proper Footwear With Traction
If the conditions are icy, run slower than usual, and consider traction devices. "You can wear crampons or microspikes, which are like tire chains for your feet. They make workouts better, because you have grip and aren't sliding around. You don't want to fall or twist your ankle," says Dworecki. (Ice can exist under the snow, too.)
To verify the fit, pull on your traction devices for a short run near your house before heading to a route further away or one that's remote. Also, be sure to wear the correct trail running shoe for the area's winter conditions—be it mud, ice, or snow—so the grip is adequate, adds Dworecki.
Beware: "The same roots and rocks that exist in the summer exist in the winter under the smooth snow. Though it can be strenuous, be sure to pick up your feet as you run," says Dworecki.
If the trail is ungroomed and has fresh, deep snow, Gibbons packs running poles and Dion lightweight race snowshoes.
Bring Emergency Gear
From Antarctica to New Mexico's 43-mile Mt Taylor Winter Quadrathlon, Dworecki has raced in extreme conditions including ice-coated terrain and -25 degrees Fahrenheit temperatures, so she knows what it's like to trail run in remote wilderness areas with tricky conditions. She says to consider picking up a compact run-specific first aid kit, then add supplies based on the terrain and winter conditions in which you'll be clocking miles.
"Put in an emergency blanket to keep yourself warm if anything happens. If you're in an area that deals with wildlife, carry bear spray or pepper spray. Add a lighter or waterproof matches too," she recommends.
Gibbons, who lives in Minneapolis, brings a lightweight 3.5-ounce SOL Emergency Bivvy as an emergency sleeping bag. Like carries a thermal blanket on winter mountain runs near his home in Wales, United Kingdom. Follow their lead by bringing a warm layer, just in case you need it.
Winter days are shorter, so bring a small headlamp (double-check the batteries or rechargeable battery are full beforehand). Pack an emergency whistle or alarm, such as the Nathan Saferun Ripcord Siren Personal Alarm, that can alert others nearby—especially over blustery gusts—or scare off wildlife.
Check the Weather and Avalanche Conditions
"Check the weather the day before and the day of your run. Mountain weather in the winter can change quickly to white out conditions," says Dworecki.
If you'll be surrounded by steep terrain—such as below a slope that is 30 degrees or greater—read and understand the avalanche conditions with the local or regional forecasting center. "If there's avalanche danger, you may want to carry a transceiver—that's a whole other level of precautions in those types of conditions," says Dworecki.
If you plan to trail run or pull on running snowshoes, such as the Northern Lites Race Wave, which are narrower and shorter than regular snowshoes for enhanced mobility in snow, in avalanche terrain, take a certified avalanche education class such as AIARE 1. The American Institute for Avalanche Research and Education offers this beginner-level course for winter recreationists.
"Know where you are, your abilities, respect the weather massively, and act accordingly," says Like.
Carry Communication and GPS Devices
In case of an emergency, "carry your cell phone close to the body, so the battery doesn't get zapped by the cold temperatures," says Dworecki. In locations without cell service, pack a satellite communication device to reach out for help or emergency responders if needed, adds Like.
For remote winter runs and "especially if you go into the mountains, learn how to navigate using a compass, a watch with GPS, or a GPS device, so that you can backtrack if you need to," says Dworecki. "It's good to take a map," adds Like.
Gibbons uses her watch to track breadcrumbs. "If I get lost, I can get back to where I was. Once, a friend and I went off trail to explore and couldn't find the trail again. I looked at my watch and we walked 40 feet to the left," she says. Even if the ground is snowy, variables such as wind, fresh snowfall, or other footprints can cover your tracks or visibility could be poor. So, you want to be extra careful and bring backup to help you navigate.
Be Aware of Your Lungs
"If it's -14 degrees Fahrenheit, I'm warm but I'm breathing in cold air that hits my precious sweet lungs. You have to put something over your lungs, which I learned after walking away from winter races with lingering bronchitis symptoms," says Gibbons.
Cold, dry air inhaled on long-distance runs can aggravate the airways and potentially trigger exercise-induced bronchoconstriction with respiratory symptoms such as coughing, wheezing, chest tightness, and decreased endurance, according to the American College of Allergy, Asthma, and Immunology.
If the combination of cold temperatures, humidity, and windchill make a deep breath feel piercing or difficult, Gibbons wears a ColdAvenger mask, which creates a micro-climate in front of the nose and mouth where exhalations humidify. If the conditions are cold but not freezing, like if it's 30 degrees Fahrenheit out, she'll wear a Buff over her nose and mouth.
Ultimately, Gibbons suggests listening to your body and respecting how your lungs react to cold temperatures, because every person's health, health history, workout goals, and surrounding environment is different. Generally, if the temperatures are near or below freezing (32 degrees Fahrenheit) runners can consider covering your mouth and nose with a neck gaiter.
If the temperatures are extremely cold—which for some could be 14 degrees Fahrenheit plus windchill and humidity or 0 degrees Fahrenheit in a dry climate for others—consider wearing a more robust protective face mask, especially for intense workouts. Consult your primary care or sports medicine physician before choosing the best method for your health.
Plan Your Hydration and Fueling
"It's paramount to have hydration and make sure your hydration is available—and doesn't freeze—through a run or race," says Like and explains, after taking a drink from a bladder, "blow the fluid back into bladder, so it doesn't freeze in the pipe. The mouth piece can freeze, too, and you often need to squeeze it and break up the ice."
Nutrition bars can also turn into a brick that are difficult or impossible to bite into. Like's solution: "Before your run, chop up your fuel into smaller, bite-sized pieces."
Dworecki adds that keeping your fuel and hydration close to the body can prevent it from freezing. "I'll wear the bladder under my jacket and run the tube through my sleeve. I bring extra calories, because when you run low on energy in winter, you can get cold. Also, adding electrolytes to your hydration lowers the freezing point of water," she says.
Buddy Up and Notify Loved Ones
"I almost always have someone come with me and that's usually a run buddy from my local trail run group," says Gibbons. Dworecki suggests the same protocol.
Whether you're on a solo run or with a group, make sure your family, roommates, or friends know your route plan and when to expect you home, Gibbons and Like agree.
---
Top Places to Go on a Winter Trail Run
Looking for a spot to put these tips into action? These trails, that span the country, offer a scenic spot to chase miles.
Washington
Washington's Snoqualmie area is one of Dworecki's favorites for winter trail runs. "The area can get a lot of snow, especially in mid-winter, and is full of scenic trails with fantastic views such as Kendall Peak Lakes," an 8.3-mile route with 1,871 feet of ascent, she says. "For typically less snow for a winter run in the same region, Mt. Si is a popular trail that can be crowded in the warmer months, so the winter can be an excellent time to go."
Minnesota
"The Superior Hiking Trail is remote ungroomed singletrack—it's heaven on earth. The 260-mile route goes to the ancient Sawtooth Mountains, along Lake Superior, and is incredibly beautiful," says Gibbons. In Minneapolis, her favorite spot for winter trail runs is Theodore Wirth Regional Park, with "huge singletrack—you can be in the city and in the woods and wilderness," she says.
Colorado
Near the state capitol, head to Matthews Winters Park for loops or out-and-back trail runs adjacent to Red Rocks Park and Amphitheater. Or venture to the Nordic Ski Capital of Colorado, Crested Butte, to run on the groomed nordic trails that allow foot travel, surrounded by 13,000-foot snow-painted peaks.
Vermont
Check out the Green Mountain Trails, a singletrack network where the annual Snow Devil Ultra Snowshoe Race is hosted in Vermont, eight miles north of Killington.