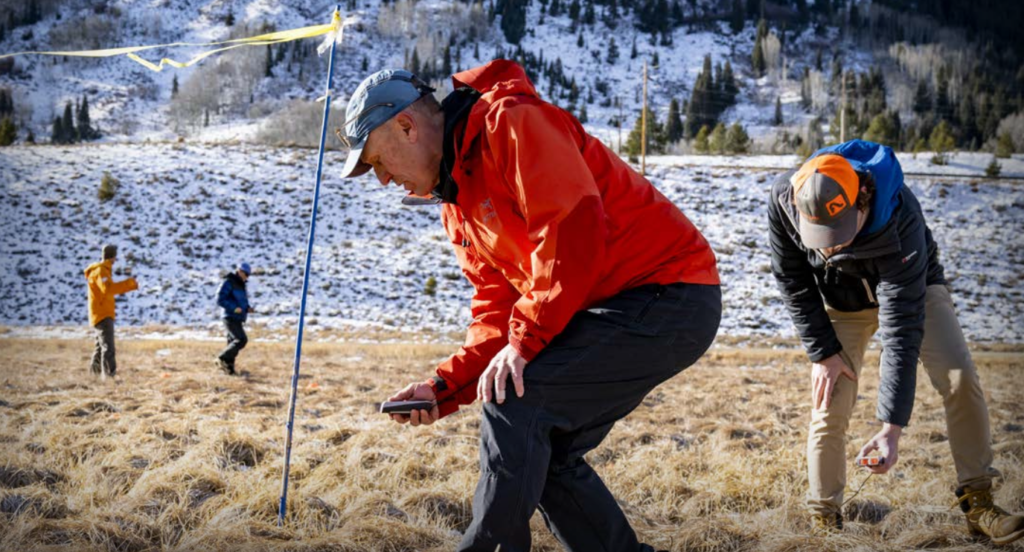 Hone your avalanche beacon skills at the new-and-near Jeff Schneider Memorial Beacon Park.
Crested Butte Magazine | November 2022
Read the full story online via Crested Butte Magazine and here:
This winter you might notice folks clad in snow gear poking and shuffling around the snowy heaps on the southern edge of Crested Butte, near the dogs and skiers scurrying along the Town Ranch Nordic loop. Those people are not part of a metal detector club or Move the Butte dance rehearsal or some extended science experiment of the Rocky Mountain Biological Laboratory.
You're looking at the new community beacon practice park, where potential backcountry travelers can use their beacons and probes to locate activated transceivers that are hidden beneath the snow. (Backcountry skiers typically wear the transceivers so they can be located if they are buried by an avalanche.) The beacon garden, which was established last season, is open to the public and free of charge.
Whether you're a dog walker, snowshoer, avalanche forecaster, emergency responder, ski patroller, fat biker, backcountry skier or splitboarder, learning how to use life-saving equipment, before an emergency happens, is essential.
"We are creatures of convenience, myself included, and we wanted to make this beacon park as easy as possible for people to utilize without excuses like 'Kebler is too busy' or 'It's windy at Snodgrass'," said Than Acuff, executive director of the Crested Butte Avalanche Center (CBAC). "And we wanted to reach as many people as possible – who might not necessarily read the CBAC forecast, like dog walkers – with education about the snowpack forecast, avalanches and the basics of a beacon search."
The idea was introduced four years ago by Ian Havlick, outreach director and a former forecaster for the CBAC, when beacon parks started popping up nationwide. The idea was tabled due to funding.
The pitch was reintroduced on the coattails of the CBAC's 2020 Outreach Program, which was launched in response to a surge in backcountry travel and avalanche incidents during the pandemic.
In 2020, Jeff Schneider, a prolific backcountry skier who served on the Crested Butte Ski Patrol for 35 years, was caught and buried in an avalanche. His death shook the community and helped prompt the creation of the Jeff Schneider Memorial Beacon Park. A sign in Jeff's honor, designed by CBAC Board President Keitha Kostyk, will be installed this winter.
Acuff said, "When Jeff passed, who had been an avid backcountry ski tourer in Crested Butte since the sixties, I thought, what a great way to memorialize Jeff and have a beacon park. Everyone saw Jeff in the backcountry, and he was known for those signature tight turns."
Most beacon parks around Colorado are found at ski resorts (see side box), where public access can be limited. In contrast, Crested Butte's practice area is in town and easy to use. Located on the undulating dirt mounds of the summer bike park and pump track, the beacon park's terrain could not be more fitting for an off-piste homework area. The landscape's small slopes make practice sessions more realistic than, say, postholing in a flat meadow, without being in avalanche terrain. Nor could the location, on the south edge of town, be more convenient for folks in Crested Butte. The practice area has parking and sits near a hub surrounded by students, Nordic skiers, bikers and dog walkers. In addition to being used by the public and CBAC forecasters, the range has already been utilized for training by Crested Butte Search and Rescue and Western Colorado University.
The beacon site houses a $4,500 BCA Wireless Beacon Training Park System. Fortunately, the Sustainable Tourism and Outdoor Recreation Committee (STOR) funded the community investment. The system includes a weatherproof control panel – you'll see it affixed to the beacon park sign – that has eight on/off switches that flash to indicate use. The toggles wirelessly control the transmitters that are buried throughout the snow. Each transmit box features a graham crackersized strike target with a motion sensor, so when the transmitter is probed, practicers can feel a distinct thud and hear an audible beep at the control panel, confirming that the theoretical victim has been found. All of the transmitters are buried within 60 meters of the control panel. You can run laps with all your gear, solo or in a group, and switch on one or all eight transmitters at the same time.
"Zach Kinler, our forecaster and outreach assistant, worked with our forecast team to lay out the transmitters in an organic way that is good for training, friendly to a variety of user levels, and without signal overlap," said Acuff. This season, the team plans to intermittently relocate the transmitters. b
Several Colorado ski resorts have beacon parks, such as Arapahoe Basin, Monarch, Breckenridge, Telluride, Steamboat and Aspen Mountain. Some ski patrollers, like those at Aspen Highlands, also bury beacons in various locations around the mountain for training, and the public is welcome to use these. But not all of the established in-bounds transmitter hubs are available around the clock. For instance, Telluride's is located at the top of a ski lift that typically operates between 9 a.m. and 4 p.m.
A handful of uniquely placed public beacon playgrounds also exist, like the one at Hidden Valley in Rocky Mountain National Park and another recently opened at Meadow Mountain Trailhead outside of Minturn. Ultimately, not many beacon parks are conveniently established within town limits like Crested Butte's. Comparable outdoor stations include the drills spot at Howelsen Hill Ski Area in Steamboat Springs, one set up by the Summit County Rescue Group at the Frisco Adventure Park, and the training center at the Silverton Avalanche School campus.