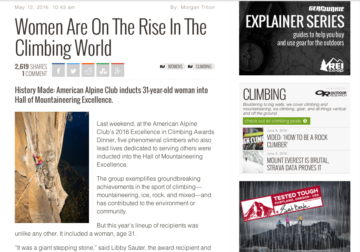 History Made: The American Alpine Club inducts a 31-year-old woman into Hall of Mountaineering Excellence. 
Gear Junkie | May 12, 2016
By Morgan Tilton
Click here to read the story on the Gear Junkie website
Last weekend, at the American Alpine Club's 2016 Excellence in Climbing Awards Dinner, five phenomenal climbers who also lead lives dedicated to serving others were inducted into the Hall of Mountaineering Excellence. The group exemplifies groundbreaking achievements in the sport of climbing—mountaineering, ice, rock, and mixed—and has contributed to the environment or community. But this year's lineup of recipients was unlike any other. It included a woman, age 31.
"It was a giant stepping stone," said Libby Sauter, the award recipient and also the keynote speaker of the night. Sauter is the youngest climber to be added to the Hall, and only one of five women in its history, since the club's birth more than a century ago.
Sauter cast a wide net of puns regarding her age, gender, and about never being able to master peeing off of a portaledge (male readers: imagine being a lady trying to squat over an edge), and how the gender gap in the Hall is gawk-worthy. "It's full of dirty, old men," she said, jokingly, and noted some stats. The average person in the Hall is a 76-year-old white male, and the second-youngest recipient this year was still 20 years her senior. The crowd—which included high-profile climbers like Tommy Caldwell and Sasha DiGiulian—loved the element of humor. Libby Sauter is known for her speed records in Yosemite, including a women's record on the Nose of El Cap in 4 hours and 43 minutes. The AAC said she received recognition as an "all around climber [with] many accomplishments ranging from big walls to mountaineering to high lining." The other inductees—who, by the way, are all deserving honorees and incredible individuals, regardless of ethnic background or gender—included Tom Frost, Hugh Herr, John Roskelley, and Geoff Tabin. When not in the mountains, Sauter works as a pediatric nurse for Novick Cardiac Alliance, a nonprofit that brings cardiac care to conflict zones.
The award was reflective of the country's changing climbing demographic. As one example, the percentage of females who participate in the American Bouldering Series (ABS) National Championship has wavered between 35 and 43 percent since 2006, but there's been a recent spike. The number of competitors in the ABS youth category surged by 39 percent last year, and the inclusion of females kept pace with males. In fact, girls comprised 50 percent of all competitors and have since at least 2012, according to ABS. At the pinnacle of the sport, more women and girls than ever are pushing the bounds of climbing. Ashima Shiraishi crushing a V15 boulder problem at just 14-years-old is a singular exclamation point on the trend. Sauter has witnessed the paradigm shift in her own climbing world. "You can't go to Yosemite without seeing a big group of accomplished women climbers together and stoked, which spurs positive, healthy competition," she said. About the AAC award, Sauter noted "women in the '60s and '70s didn't grow up climbing, so there were sociological factors that keep 70-year-old women from being in the Hall." She continued, "I fully suspect 30 years from now it will be hugely different. And if this is a stepping stone to encourage underrepresented minorities, and to help encourage participation in climbing, then I will happily be that," she told me after her speech while '80s jams blared from The Goonies. On her first climbing expedition, Sauter began to learn to trust her own instincts as a woman, she told me. "Our gender is taught to be more demur or passive. With climbing, you learn to be more confident in your decision-making. Those daily decisions over an expedition all add up. At first, I was sitting back and letting others make the decisions…you have to share your opinions with your partners." As women like Sauter continue to raise the bar of achievement for the gender as a whole, more females will continue to join the sport, push the ceiling, and change the status quo.
A professional climber and badass high liner, Sauter has set several on-rock records, including her holding of the fastest female ascent on The Nose, El Capitan. A late bloomer, she didn't truly begin sharpening her climbing teeth until college. And when she's not on rock, she's saving the lives of babies all over the world. Sauter is a Pediatric Cardiovascular Intensive Care Unit Nurse, and her training included working in the Pediatric Cardiac ICU at Stanford Children's Hospital in Palo Alto, California. Since 2012, she's worked with Novick Cardiac Alliance, a nonprofit that provides comprehensive care to children with heart disease in developing countries. The organization places its health care professionals in destitute facilities, and the team helps the local health-care providers to improve their skills and technology. As it turns out, the skills that are required to climb huge walls, and the courage needed to provide health care in the world's most destitute places, go hand in hand. Sauter works in ever-changing international locations, including places like Ecuador and Libya. In her keynote, Sauter drew parallels between the nausea-rendering fear of "ponying and cowgirling up" an un-bailable big wall climb, and the discomfort of moving, solo, to work in Benghazi, a place of desperate political crisis and violence. In either case, she said, the disappointment of not trying would have been worse. "We should not just send projects. We should serve the people who share this place."