Uncover the snowy enchantment of this Southwest Colorado haven.
EnCompass Magazine | December 2016
Read the story on the EnCompass Magazine website.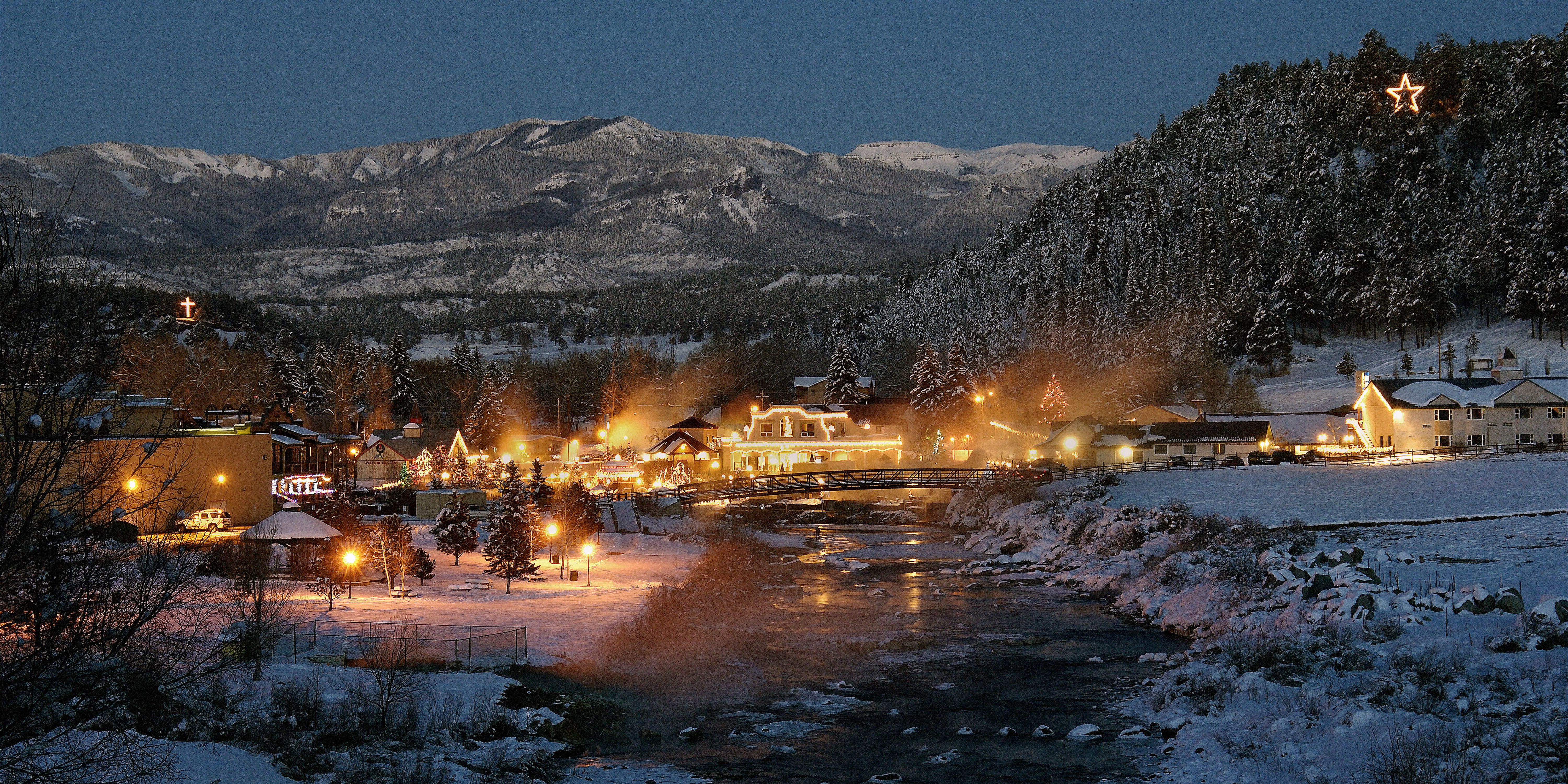 I became familiar with Pagosa Springs in a roundabout way. Raised in a neighboring Southwest Colorado town, when I was growing up Pagosa was renowned by kids for its natural—and odorous—hot springs. (The name Pagosa, even comes from the Ute Indian words, Pah, for water, and Gosa, which means, "has a bad smell.") The 2,000-person town was also the southern gateway to Wolf Creek Pass and the thoroughfare's crown jewel: Wolf Creek Ski Area. When my Mom moved 40 miles west of Pagosa it didn't take long for me and my pre-teen friends to discover that Wolf Creek's slopes delivered something exceptional: zero lift lines, nominal ticket prices, and phenomenal snow. Acclaimed for delivering "The Most Snow in Colorado"—due to topping the charts with 430 inches, annually—Wolf Creek always received the season's earliest blizzards. (To draw comparison, the average annual winter blankets at Telluride, Steamboat, and Vail Mountain resorts hit between 309 and 350 inches.)
On a bluebird day, the temperatures can drop below freezing. When enveloped by a storm, the wind howls and lush flakes buck wildly in every direction. One afternoon two seasons ago, as I rode the Treasure Stoke Chairlift from the mountain base toward Alberta Face, I sat with Wolf Creek Ski Area owner Davey Pitcher—who can be spotted driving the complimentary cat ski that totes powder hounds from the ridgeline above Dog Chutes to the easternmost ski boundary, Horseshoe Bowl—and talked about the ski area's focus on building community, including ski school partnerships with the surrounding school districts and discounted "local appreciation" lift passes—that's $44 for an adult ticket. Sounds ideal; at Wolf Creek, it's reality.
Any snow sport-loving Coloradan can gawk at the idea of choke-hazard fluff that's piled past her knees and falls at a pace so quick that every run gifts first tracks. But, I didn't realize the full allure of Wolf Creek and it's nearest, largest community of Pagosa—population 1,700—until I moved to Denver. Ski resorts that branch off of the I-70 corridor may be larger—Wolf Creek encapsulates 1,600 skiable acres while Breckenridge is home to 2,900, for example—but many resorts in the Front Range are decorated with bustling lift lines, which are accessed by even more congested highways. Wolf Creek feels quiet, simple, of the past. At the base zone, next to the classic wooden Wolf Creek Lodge, you can pick up a paper lift ticket, which still only costs $66 for adults. There are no overnight accommodations at the ski area. No real-estate development (for now). No lift lines.
For travelers who want to experience all of the goods beyond the ski turns, here are the best hits of Pagosa Springs and along its hem.
ENTERTAINMENT. Pagosa Center for the Arts is a must with an intimate setting—the audience sits against and wraps around the stage—and can walkabout the art gallery during intermission. The professional live theatre and performing arts education company offers a seasonal lineup of diverse shows from family-friendly Broadway musicals to plays that address the gender paradigm or totalitarian society.
TAKE A SOAK. Pagosa's geothermal hot springs are the deepest in the world. Measured at 1,002 feet, most folks know of the record-holding Springs Resort and Spa—which is boasts an awesome 23 soaking pools—but aren't privy to the lesser-known options in town. A one-minute walk to the east and across Hot Springs Blvd is Healing Waters Resort & Spa with indoor hot baths, mineral water swimming pool and an outdoor soaking tub. Or, take a five-minute stroll to the west, across the river, and you'll find the Overlook Hot Springs Spa on Pagosa Street: a best kept secret. Reminisce of an ancient roman bathhouse, the Victorian-style pools are serenely low-key and include rooftop tubs that offer a wide starry window the Southwest's clear, unpolluted night sky.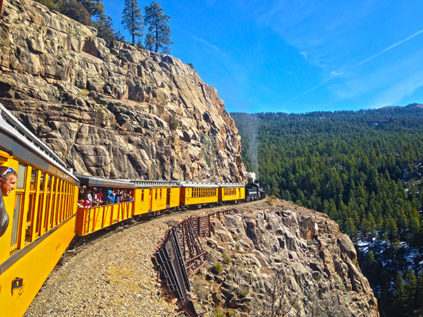 ALL ABOARD. Sixty miles west of Pagosa, you can hop on the historic Durango & Silverton Narrow Gauge Railroad train—even during winter. The steam train skirts along the Animas River, 26 miles to Cascade Canyon Wye. With heated cars and a fireside lunch you won't get chilled on the 5-hour journey. (Though, if you do, cocktails are available, too.) At mile post (MP) 469.1 you'll pass the rock cut featured in the movie, "Butch Cassidy and the Sundance Kid," for the train robbery scene. Then get your cameras ready for what's said to be one of the most impressive railroad views in the world: the High Line, where the train rides along a rock edge, 240 feet above the Animas.
CHIMNEY ROCK. From atop this magnificent acropolis, it's easy to understand why the Ancestral Puebloans chose this place to construct 200 ancient homes and ceremonial buildings. The national monument is open from May 15 to September 30—but what most people don't know is that you can still enjoy a hike up the road to reach the site during the off-season months. The 4-mile roundtrip hike is an easy to moderate challenge. In case it's muddy or icy, pack your hiking shoes and winter traction device. Without a soul in sight, it's breathtakingly solemn and well worth the time.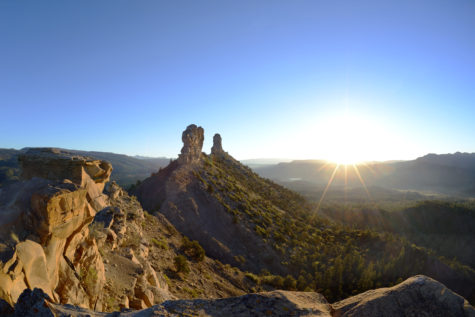 DINING: Grab the day's first meal (and a to-go lunch) at Pagosa Baking Company. Start off with a delicious, filling breakfast burrito: eggs, potatoes, onions, green chile, and cheddar cheese. For special occasions and fine dining, set aside one night to enjoy at the Alley House Grille. Start with the roasted golden beet salad, tossed with toasted walnuts, goat's milk Humboldt Fog cheese, and lemon vinaigrette. Finish with the flash-seared, sesame crusted Ahi Tuna steak. If you're in the mood for a local's hangout with live music, keep the night casual at Kip's Grill & Cantina. Go for a smothered green chili cheeseburger or the local favorite: grilled Wahoo fish tacos in corn tortillas.
OVERNIGHT STAY: The town's accommodations can fill up, especially during a blizzard cycle, so reserve lodging well ahead of your trip. Fireside Inn Cabinsalong the San Juan River offers a romantically rustic and relaxing setting that is comfortable for families, couples, and groups—and they are pet friendly. The one-bedroom cabins are spacious and feature a pull out futon, full kitchen, and fireplace. To top off the day, relax in the hot tub (which is adults only—sorry kiddos!).
GETTING THERE: From Denver, the 277-mile drive via US-285 is about five hours. Be sure to check the road conditions before leaving with special attention toward Monarch Pass and Wolf Creek Pass.