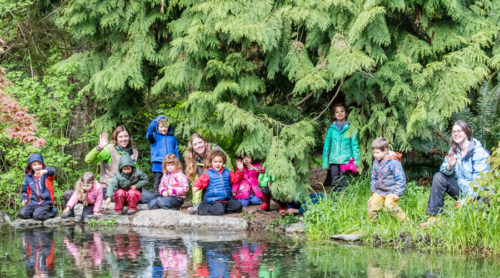 Preschoolers Play and Study Outside Year-Round at Fiddleheads Forest School.
SGB Weekly | August 2016
Click here to read the story on the SGB Weekly website
What would a schoolroom look like if it had no walls — literally?
On a winter's day, young children sit around a crackling fire in a circle made of logs. Clad in hats, gloves and jackets, they read from laminated workbooks about the science of a snowflake:
When an extremely cold-water droplet in the sky freezes onto pollen or a dust particle, it creates an ice crystal. As the ice crystal falls to the ground, water vapor freezes around it, which creates six more crystals that become the snowflake's arms.
Then the kids excitedly jump up, grab their sets of magnifying glasses and run around in the fallen snow, eager to get a closer look at the multi-armed crystals; they're surrounded by the phenomena they study.
Even more importantly, when the physical confines of a space are peeled away, what do preschoolers learn through experiencing the uncontrollable circumstances — rain, snow or shine — of the outdoors? Skills of self-regulation, said Kit Harrington, co-director and founder of Fiddleheads Forest School in Washington State. Entering its fourth year, the 10-month-long program now includes two adjacent "classrooms" made up of a surrounding of stumps and logs tucked beneath a Cedar grove in the Washington Park Arboretum — a unique 250-acre collection of habitats from around the world — located in the University of Washington Botanic Gardens. A total of 50 kids (ages 3 to 5) attend four-hour sessions for two, three or five days a week.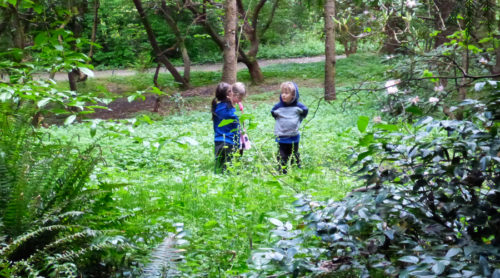 Fires aren't allowed in the arboretum. And in Seattle, there is only the occasional snow. But in Scandinavia, where the concept of an open-air kindergarten has its earliest beginnings, schoolchildren brave more snowfall than in Washington and colder temperatures that hover around freezing. "In terms of weather conditions, this model of learning is very adaptable," said Joanna Wright, head instructor, who first started working with Fiddleheads two years ago. In February, Washington hit its wettest year on record — and the kids had an absolute blast, Wright said. Financially, it could be challenging for families to provide full outfits across seasons, so Fiddleheads established a gear library.
"We tell our families a classic saying: There's no bad weather, only inadequate clothing. There's a lot you can do in terms of physical preparedness and also having a good mental attitude. It takes teachers that are excited to be out in the snow and rain that can model being okay with it, having fun in it and still learning in it."
A typical day at Fiddleheads goes from 9 a.m. to 1 p.m. They start by the act of noticing: listening, looking and noting the environment's incremental changes. When kids get cold or have high energy, they politely say so and take a jog. Alternatively, when they need to recharge, they retreat to their "magic spot" — a personal area where they go for uninterrupted quiet time. The teacher-student ratio is low, with a maximum of 14 students per two teachers, plus one or two volunteers or interns.
Any program can adapt or integrate nature-based learning to fit its social and geographic needs, Wright said, building a fire for warmth or having a small building that's heated. To succeed, the space needs to be safe for kids, the program needs to be supported by the community and both need to be a good fit for the students.
When Fiddleheads was founded in 2012, there were four other programs like it in the country. Now, nature-based programs are popping up all over the U.S. According to the public records of Natural Start Alliance (NSA) — a coalition founded in 2013 that helps educators to establish nature-based learning programs — at least nine preschool or childcare facilities are NSA-registered in Washington State alone, as well as 200 others across the U.S. An article written by Nancy Alton on ParentMap, last updated in December 2015, lists at least 25 outdoor or nature-based preschools in Seattle and its peripheries, so clearly not all of the existing programs are catalogued yet with the NSA.
Harrington's background is in early childhood development and perceptual learning, and she holds a certification in Montessori. "There are elements of Montessori, in terms of the way that we approach the children very respectfully and an idea of following the child," she said. But Fiddleheads applies aspects of many different teaching philosophies and tailors the application to each individual student. The approach requires significant prep time each day.
"Sarah and I decided that we didn't want to rely too heavily on any single philosophy. We wanted it to come from the children, this space and their interaction in it. We base our curriculum on the observations of the students; it's an emergence," said Harrington, noting Co-director and Founder Sarah Heller, who developed the proposal for Fiddleheads Forest School. The two women both grew up influenced by the outdoors. Harrington was raised in Pittsford, VT near the Green Mountains, and Heller, a Seattle native, grew up visiting Orcas Island in Washington's San Juan Islands.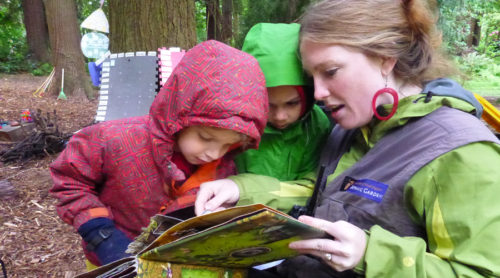 In addition to offering a very strong natural sciences curriculum at Fiddleheads, Harrington explained, "Our classroom space is suited to developing self-regulation: a general awareness of environmental stressors, the capacity to cope with unexpected change and being able to successfully navigate the change." This includes learning how to express one's physical needs as the temperature changes, or taking calculated risks by crawling on wet logs.
Ida Rose Florez, PhD, assistant professor of early childhood education at Arizona State University, penned an article titled "Developing Young Children's Self-Regulation Through Everyday Experiences." She states that the success of school, work and life hinges on a person's regulation of her thinking, emotions and behavior. Adults can demonstrate self-regulation, but a child's internalization of those habits arrives through practice. Meaning, adults need to create a space for those opportunities.
Studies continue to show that self-regulation and experiential learning underlie success in all areas of life as people move from one stage to the next, Harrington said. Self-regulation can't be taught with a cookie-cutter approach. But spending time in nature does provide an arguably strong launch pad for kids.
It plants the seeds of grit.