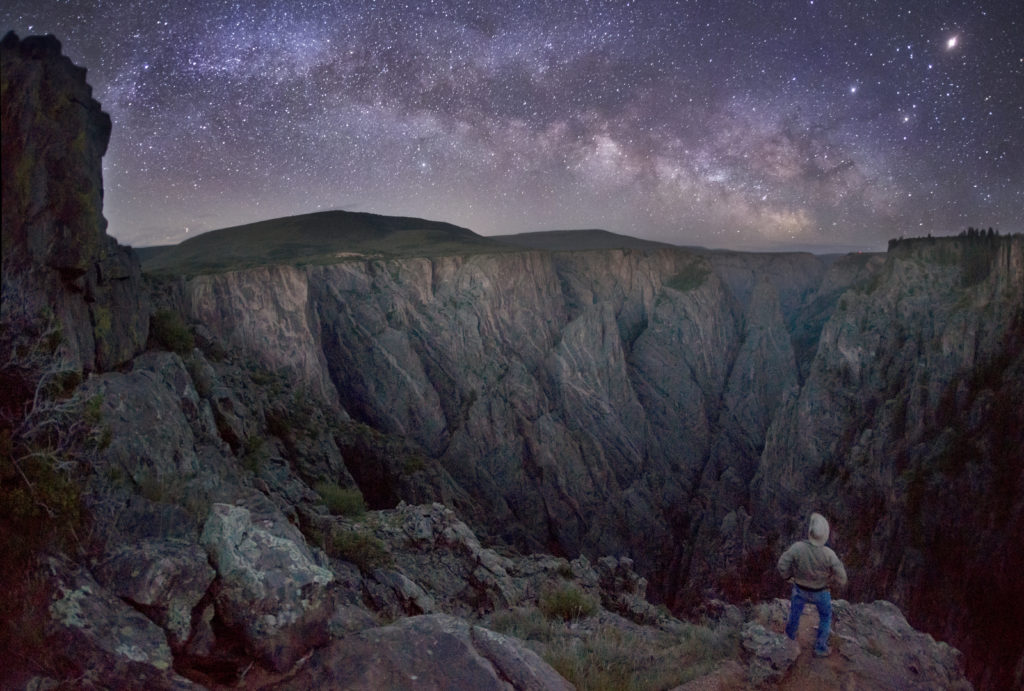 Celebrate Colorado's dark sky month by gazing at the state's starkest, most dazzling constellations.
Elevation Outdoors Magazine | June 2020
Read the full story in print and here:
I'm deeply at ease in the meditation chapel, warmed by the fireplace and reverberating chant music. My partner Eric and I are at Rancho Bendito, a sanctuary we found via Dark Skies Vacations, a collection of stay-overs with clear panoramas of the Milky Way, located in Colorado's Sangre de Cristos. Earlier this evening, we learned about the zone's dark sky history from our host, architect Jim Bradburn, who designed this property, inspired by the universe, for "inner and outer observation." For a decade, Bradburn was the president of Dark Skies of the Wet Mountain Valley, a Crestone-based nonprofit dedicated to dark sky protection. "The preservation of dark skies is relatively easy—blockage is temporary. Reducing light pollution brings the stars back instantaneously," Bradburn explains, as we stroll from the labyrinth and greenhouse to his observatory, where he shares an in-depth astronomical tour through an impressive 17-inch wide telescope.
We're here to celebrate Colorado's Dark Sky Month, inaugurated in June 2019. The proclamation, issued by Governor Jared Polis, aims to encourage statewide celebration of unpolluted skies. The celestial bowl is a universal source of scientific discovery, inspiration, heritage, and connection to nature, according to the designation, which is also meant to raise awareness for the environmental, economic, and health factors of light pollution. At least 30 percent of outdoor lighting in the U.S. is wasted with unnecessary costs—$3.3 billion—and 21 million tons of carbon dioxide, per year, according to The International Dark-Sky Association (IDA). Founded in 1988, the nonprofit works globally to preserve dark skies and combat light pollution.
To date, the IDA has certified more than 130 places for their conservation of aerial darkness, including Westcliffe, the home of Rancho Bendito. Accredited locations range from cities to parks but only 23 communities worldwide have qualified for IDA approval including Norwood and Silver Cliff, CO. The Centennial State is a gem for stargazing partially due to the Rocky Mountains, which barricade billowing light from the Front Range populace. The Black Canyon of the Gunnison National Park, Great Sand Dunes National Park and Preserve, and Dinosaur National Monument are also IDA-verified.
"Astrotourism recognizes the inherent, traditional values of night sky," says Randy Stanley, the National Park Service (NPS) Intermountain Region Natural Sounds and Night Skis Coordinator. Dark skies, "reconnect us with something we lost—throughout U.S. urbanization, over the past five decades—in places where the conditions support sky preservation and observation," he adds. Some NPS areas have experienced an uptick in astronomy-seekers. "June 2019 was an especially busy month for night sky viewing with more than 100 visitors some evenings," says Katherine Faz, Chief of Interpretation and Visitor Services, Great Sand Dunes National Park and Preserve.

Star stewardship also catalyzes economic benefits. According to the September 2019 report, "Dark Sky Tourism: Economic Impact on the Colorado Plateau Economy," non-local tourists will spend $5.8 billion in Colorado Plateau gateway communities, over the next decade. The sector will stimulate $2.4 billion in wages and more than 10,000 new jobs each year, region-wide—in part, because star exploration is sustainable year-round: Cold winter air is more transparent, offering optimal views. More communities are seeking IDA stature including Lake City, Creede, and Crestone—which banded together with IDA-sanctioned sites to create the state's first-ever night-sky route. Road trippers can discover astronomy locations and tips per, Colorado Stargazing: Experience the Night, at colorado.com/coloradostargazing. As Bradburn says, in reference to Shakespeare, "Sitting under a 'canopy of golden fire' restores the soul—all you have to do is turn the lights off." —Morgan Tilton