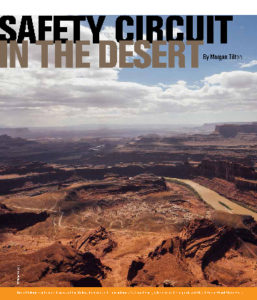 Climbing onto my Dad's new wheels—a plush, tour-worthy BMW motorcycle—he showed me how to ride, safely, in the solitude of Utah's desert.
*Finalist: North American Travel Journalists Association, Intergenerational & Family Travel category
EnCompass Magazine | September 2015
By Morgan Tilton
Click here to read story on EnCompass website
I rolled down the front and passenger windows, allowing the scent of sagebrush to blow steadily and warmly off of Utah's rolling high-desert floor. Behind me stretched 289 miles of asphalt, a distance as great as the width of Colorado. The 4.5-hour drive from Denver brought me to the place where my Dad and I would begin a three-day, four-night adventure in Canyonlands and Arches National Parks—by the way of a motorcycle. His motorcycle. Dad first mounted a motorcycle when he was 13 years old. Since then, he's owned five different bikes; and 3 years ago, he upgraded from an enduro Yamaha to the BMW R1200 GS, his first cross-country bike. He's taken it to the Tetons; Bryce Canyon and Zion National Parks; and stumbled upon Marfa, an eclectic hole-in-the-wall town in southern Texas. Essential for a conscientious traveler, the motorcycle's smaller engine helps Dad to attain unparalleled gas mileage while begetting minimalism: The vehicle's two panniers and pouches can haul little more than a tent, tarp, hatchet, daypack and several liters of water. Counting all mile-markers, he's toured more than 14,000 miles on the bike throughout the southwestern states. On this autumn Utah trip, I would take my debut tour on the back of a rumbling hog with a binary fear and excitement.
Seventeen miles from the stateline, I veered south on UT-128, a deteriorating road with a patchwork of tar snakes. Exit 214 markedly read, Cisco, No Services. Moments later, the white-capped La Sals leaped into view between big-blue and the mivida soil. Given Dad's sheltering disposition, the risks involved with motorcycling seemed somewhat contrary to guidance he gave throughout my childhood. My curfew was pinned to around sunset. Preceding any teenaged overnighter (school-led or not) the chaperones would be engaged by him for a well-detailed conversation. At times, my adrenaline pursuits—60-foot jumps on my snowboard and leaping off 50-foot seaside cliffs in Maui—were met with his concern. But, motorcycling certainly isn't without danger. Would the enchantment of riding outweigh my awareness of the risk? Canyonlands National Park has two in-boundary camping areas: Squaw Flat Campground and Willow Flat Campground, with a total of 38 first-come, first-served campsites. With nearly 453,000 annual visitors, the park's tent and RV spots are often occupied between late-March and June and from September to mid-October. So, Dad and I reverted to plan B: We'd post our tent at one of the 12 BLM campgrounds along Highway 128. The steep canyon along Route 128 suddenly appeared. I seemed to shrink beneath its cubical towers. Wide and mellow, the Colorado River paralleled the road like a puzzle piece inside of the valley. Each curve in the river matched a deep bend in the gorge. At dusk, I finally arrived at Upper Big Bend Campground, inside a giant horseshoe-bend, where Dad had swooped a camp spot for us nestled next to the tamarisk and the Colorado River.
It was 7:42 in the morning, the gusto-gold sun crested over the butte above our desert bungalow. I slid the silver, skull-squeezing motorcycle helmet over my head. My ensemble of safety outerwear included a pair of Joe Rocket pants, an AGV Sport Women's Xena Mesh Jacket, and full-finger work gloves. Before revving forward, my dad double-checked all of our protective gear. Cocooned in the accouterment, I felt slightly claustrophobic. As a motorcyclist, all skin should be covered to protect it from the sun, wind, rain, hail, snow, ice pellets and to help prevent road burn in a slide out. Choose pants and jackets with abrasion-resistant material and removable padding in high-impact areas: the hips, knees, elbows and shoulders. For a proper clothing fit, go with the goldilocks rule: Not too loose, not too tight. Don synthetic fabrics—their breathability means comfort. Moab's average autumn temperatures are mild (60 to 80 degrees Fahrenheit), but sitting beneath the sun can get toasty. Testing. Testing. Testing. Dad clicked on our helmets' microphone system and his voice became ambient inside the bulbous encasing around my head. We accelerated. I was anxious and as stiff as a board. Here's the reality: For every vehicle mile traveled, the death of a motorcyclist occurs 26 times more frequently than car passengers in the incident of a traffic crash. Motor vehicle traffic crashes in 2013 took the lives of 4,668 motorcyclists and close to 88,000 were injured, according to the May 2015 motorcyclist traffic safety report from the National Highway Traffic Safety Administration (NHTSA). We had taken every precaution, and Dad was a well-seasoned rider. I tried to relax on the back of the motorcycle as we drove to the entrance of Arches National Park. We vroomed past the prominent Three Gossips and Sheep Rock, the Tower of Babel and Balance Rock. Whack! When the pace slowed, my helmet knocked into the back of Dad's. Fifteen miles from the park's headquarters, I spotted the Fiery Furnace, a 0.4-square-mile sea of countless side-by-side sandstone pinnacles. The gargantuan cylindrical needles looked like petrified succulents. That breathtaking view was worth every second of the ride.
Our second morning in Moab's desert, we rode southwest as the crow flies from Upper Big Bend to Island in the Sky, the northernmost area of Canyonlands. The Maze occupies the western slice of Canyonlands' 527 square miles, and the third piece is The Needles. The trifecta is defined by the confluence of the Green and Colorado Rivers, which connect in a Y-shape in the center of the park. We pulled over and hiked 1.8 miles round-trip to Upheaval Dome and around a portion of the crater's edge. Scientists debate the unexplainable two-mile-wide circular depression—whether the bowl's catalyst was an instantaneous meteorite or a slow-moving salt dome. Open to the notion that anything is possible, Dad humorously suggested that the site is actually a government ploy to cover up something worth hiding. Gliding across the top of the mesa, I turned my head from the back of the motorcycle: The plateau's edge dropped out-of-view like an infinity pool with a 100-mile view. We reached Green View Point Overlook and demounted. White Rim's continuous sandstone bench rested 1,200 feet below us, and the rivers' confluence flowed another 1,000 feet lower. I considered John Powell's 1869 expedition through the uncharted region. The 3-month mission ended with half of its wooden boats and 3 lost oarsmen. It was the first attempt to define this obscure, wild space. As an adventure rider, you're irrevocably exposed to the elements, required to become a part of the conditions that surround you. With considerate guidance, Dad shared his motorcycle skills much in the same way that he's taught me to approach all of my ambitions: to discern my own course, be aware of the risks and steer consciously. Leading the life of an explorer, he understands the inevitable risks of pursuing an open road.
SAFETY TIPS
Here's a safety checklist to help prevent—and to protect in the case of—a crash or collision.
Complete a training course. Addresses basic motorcycle information, risk management, riding strategies and skills—all invaluable information. Motorcycle Rider Training Center: 303-989-5837.
Wear a helmet. When choosing your helmet, take into account the face shield's color and anti-fog properties.
Use protective gear. Cover-up with reinforced, motorcycle-specific apparel to protect from wind, debris, bugs and road rash. Bright, visible clothing is better. Wear a jacket and pants, earplugs (to help prevent hearing damage), sunglasses, ankle-high footwear, and durable, non-slip gloves.
Establish team communication. For caravanning and passengers, use a headphone microphone system and hand signals to communicate.
Watch for road hazards. Twenty-two percent of fatal motorcycle collisions involved stationary objects—not other vehicles—according to the 2015 NHTSA motorcycle fatality report.
Choose conservative speeds. Thirty-four percent of all motorcycle riders involved in fatal crashes were speeding, in 2013, whether that was driving too fast for the conditions, racing, or exceeding posted speed limits.
Consider the conditions. Traveling during daytime hours and favorable weather may help to increase rider visibility and comfort.
Invest in anti-lock brakes. ABS braking systems are highly effective in reducing motorcyclists' fatal crashes, according to the Insurance Institute for Highway Safety (IIHS). Based on 2013 data, ABS-equipped motorcycles having a 31 percent lower crash rate than the same models without ABS.
Maintain your motorcycle. Check the lights, brakes, turn signals, oil and fuel. Make sure cables aren't frayed or worn. Lube and adjust the chain according to the manufacturer's specs.
Travel with energy. Drivers, remain aware of your surroundings. More often—42 percent—of fatal two-vehicle, motorcycle-to-vehicle crashes occurred when the other vehicles were turning left while the motorcycles were going straight, passing, or overtaking other vehicles. Passengers, don't fall asleep on the back of the bike.
VISITING MOAB
435-719-2299
Entrance fees $10/vehicle; $5/motorcycle, passenger excluded; $5/person, no vehicle.
Reservations/permits Backpacking permit required/Free; daytime hiking permits needed for the Fiery Furnace; Individual/group campsites reservable for the Devils Garden Campground, Mar-Oct.
Arches Visitor Center Five miles north of Moab on U.S. Highway 191. Open daily, excluding Dec. 25. Fall hours: 8 a.m.–4:30 p.m.
435-259-4712
Entrance fees $10/vehicle; $5/motorcycle, passenger excluded; $5/person, no vehicle.
Reservations/permits Overnight backcountry/river trips require permits; Group campsite reservations available for The Needles.
Island in the Sky Visitor Center Go north on U.S. Highway 191 out of Moab, then west on Grand View Point Rd (UT-313). Open daily 9 a.m.–4 p.m.
435-259-2100
Nightly fee $15 per site