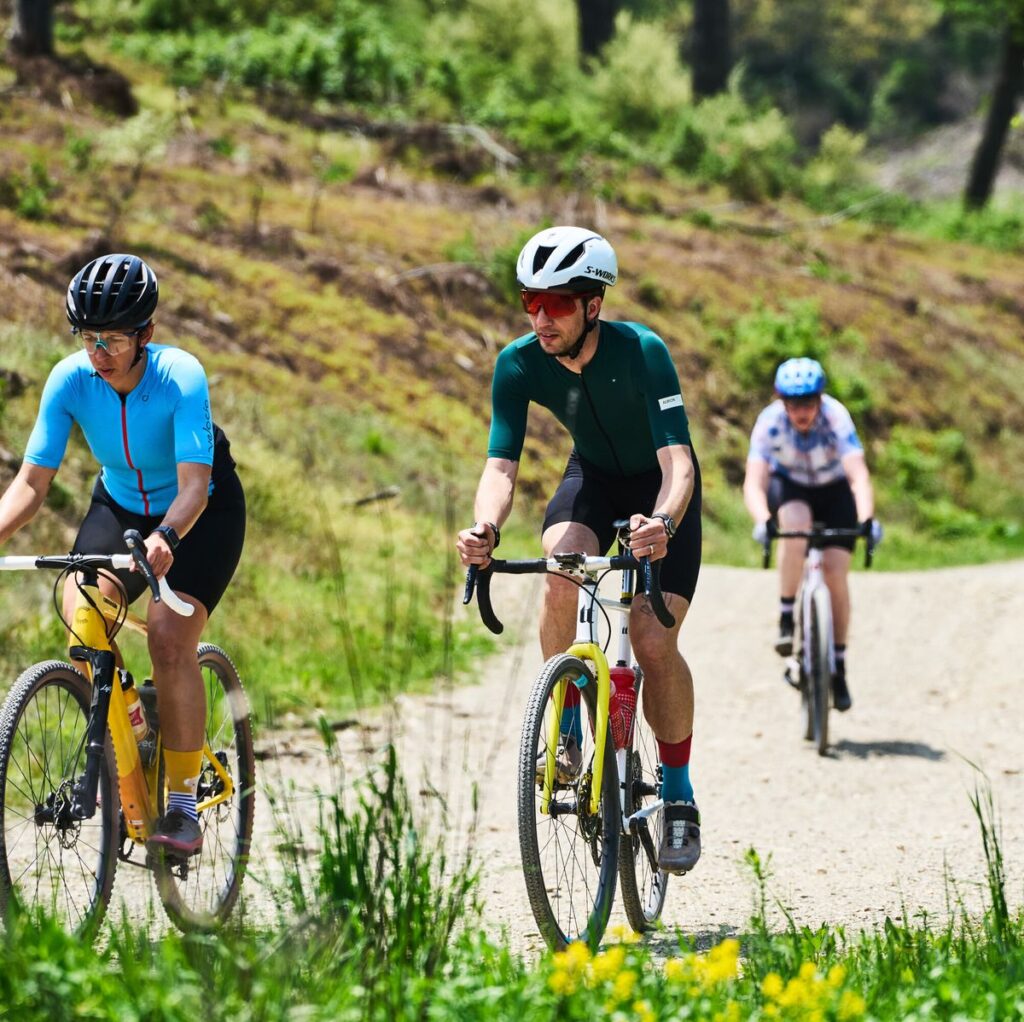 From cyclists who have done it, steal these tips on mapping out the best route near you, so you can celebrate a 100-mile finish.
Bicycling | August 2023
Read the full story on bicycling.com and here:
Many cyclists have a goal of riding the elusive century. Seeing a cycling computer hit triple digits brings a new sense of accomplishment and pride that's tough to beat. "It's hard to do a 100-mile ride without having some sort of discovery experience, big or small, and a sense of accomplishment," says professional endurance cyclist, Payson McElveen.
You don't even have to sign up for a fancy event to make those century dreams come true. Whether your goal of clocking 100 miles is to get fit, connect with friends, or experience as much of a landscape as possible on road, gravel, or trail, we chatted with endurance cyclists and guides for their input on how to plan a century ride route in your own town.
1. Use a Predetermined Event to Design a Personalized Ride
When you first start route building for a century ride, find inspiration from other tried-and-true routes in the zone where you want to ride.
o point, the CB Classic is a historic annual mountain bike ride connecting 100 miles of the most stunning, popular singletrack surrounding Crested Butte, Colorado, which inspired local endurance athlete Sarah Stubbe to create her own version, making it an annual 100-mile ladies' ride dubbed the La Classica, first organized in 2022. The ride, which has evolved to overlap segments of the CB Classic, doesn't follow the exact circuit but uses it as inspiration.
While the CB Classic is traditionally done in a single day—and dishes up nearly 17,000 feet of climbing—Stubbe divided the segments across two days to make the route more accessible to rider's busy schedules and more enjoyable. "No one wanted to do the ride in a day, so I thought, why don't we do it in two days and camp in the middle," says Stubbe, who's also the gO Initiative founder, a nonprofit that's home to the GO girl biking program.
To camp in the middle, the group shuttles and parks vehicles with their food, recovery equipment, fresh mountain bike apparel, endurance fuel, and camping gear up a dirt road at an official campsite that intersects the route halfway. The tradeoff? Planning a self-supported overnighter takes additional time to coordinate.
2. Look to Recorded Route Segments
In addition to studying the routes of official or unsanctioned events, riders can garner ideas from cycling apps including Garmin Connect, Ride GPS, Strava, Trail Forks, and MTB Project.
"Strava is one of the most approachable with the heatmap [which anonymously aggregates commonly-ridden routes], and also just to get an idea of how popular certain roads or trails are," McElveen notes.
Studying where other cyclists have previously ridden generally leads to finding segments that are likable and worthy of adding to a 100-mile route. The most-cycled segments are popular for a myriad of reasons whether that's efficient access, stunning views, or developed bathrooms sprinkled throughout. Well-tracked segments can often be less solitary even if they are remote.
"Strava is great, because you can plan the route, the app estimates how much time the ride will take, and it tells you the elevation gain," Stubbe says. (Just know the app's reported elevation gain isn't always adequate, so be sure to toggle a topo map and examine the digits, she adds.)
Endurance athlete, bikepack racer, and professional guide Karin Pocock takes a similar approach while using apps to design 100-mile-plus bikepacking and mountain bike routes for training and recreation. "A lot of my best discoveries of 100-mile or more rides is when I blend suggested pieces of rides from apps and chunks of rides I already knew and liked, with totally new sections I don't have much information on and haven't ridden, which serves as motivation to do the whole thing at all," says Pocock.
3. Consider the Elevation Gain
For a century distance, make sure to consider how much elevation change will be along the route, and avoid mapping out a ride that's too robust.
"One thing I look at is the ratio of elevation gain to mileage: It's a really different biking experience if you ride 100 miles with 10,000 feet versus 100 feet of elevation gain," says McElveen.
Looking at recorded rides in apps can efficiently jumpstart determining the accumulative elevation gain that you seek, rather than mapping a new route from scratch.
One rule of thumb: "1,000 feet of climbing over 10 miles is when the route is serious and gnarly, so start way below that ratio. If you can have 3,000 to 4,000 feet of climbing for 100 miles that should be a faster, easier ride, because the elevation gain is usually spread out," McElveen says, versus being condensed on say, a 50-mile ride.
When possible, aim to tackle big ascents at the time of day when portions of exposed road or trail are in the shade and the ambient temperatures are lower versus during the day's heat climax or when those trails hit sun.
4. Figure Out Your Start and End Point
"Your start point depends on where in the world you are," says McElveen. "I love riding from home and have amazing riding from home. I really dislike driving to rides, but also cool opportunities can open up if you drive to a ride start."
To that end, the 2023 La Classica route was modified from the year prior so that it would start and end from Stubbe's house, where riders parked each morning before riding two huge loops.
If you're riding a loop, you'd park near the start point, which doubles as the finish. Otherwise, for a point-to-point ride, you could coordinate the route to end at your house or park at the finish and ask a friend (or hire a car) to shuttle you to the start.
5. Keep Ride Flow in Mind
Beyond the accumulative elevation gain and start and end points, consider the overall flow of the ride.
"You could ride trails in either direction, so are you creating mandatory hike-a-bike where swapping the direction could alleviate the climb and give you a fun rowdy descent?" says Pocock. To break that down, hike-a-bike sections are portions of trail or road that are difficult to ride, because the gradient is steep enough or because a steep pitch happens at the top of a climb where a rider's legs can be spent.
"The other thing I've done more of is very intentionally looking at the nature of the riding. How do I find a nice balance of mellower climbs, steeper climbs, and cruise-y flats or rolling terrain rather than forging a path from point A to B," Pocock says.
One tool that's useful for considering flow: Read an elevation profile graph, like the ones on Strava or MTB Project, which show where along the mileage the ascents and descents are located, as well as the pitch or percentage grade, which is the ratio of the vertical rise divided by the horizontal distance.
Another tool: Via Strava's "Segment Search" page, you can search for cycling routes that are flat or downhill versus those with a climb.
Beyond planning a route with diverse flow, looking at where the climb or climbs are situated in the 100-mile route can help a cyclist prep mentallyand nutritionally ahead of time by staying well-nourished before the climb starts.
6. Determine the Time Requirement
One additional aspect of flow is pace, which varies greatly across gravel, trail, and pavement, as well as across athletes and type of bike (for example, a road bike can travel faster than a mountain bike on paved roads). Picture hiking a mountain bike for 60 minutes up a mountainous dirt trail versus flying down a section of wide gravel.
"As soon as I hit paved road, my average speed is more than double, so account for that," says Pocock.
A cyclist can use a range of apps to research how much time particular segments will take to ride and then add up those times for an overall time estimate.
For example, MTB Project has a "Check-Ins" sidebar where cyclists often share how long the entire ride took. Trailforks features an average ride time for each route. Using Strava's Segment Explore tool, you can see a chronological list of the durations different riders needed to complete specific sections.
For segments that you've never ridden and don't see an uploaded track, look at your typical ride pace for a similar profile to estimate how long the segment will take.
The benefits of figuring out how long your century ride route will take (besides setting aside that time)? You can bring the right amount of fuel and hydration. 
7. Plan Around Weather
Several key weather factors to pay attention to, especially when riding a 100-mile route in the summer season, is the ambient temperature, wind speed and direction, direct sunlight versus cloud coverage, and chance of precipitation or thunderstorms.
"If it's windy, it could be worth riding into wind at first and having a tailwind for the last part of the ride," says McElveen.
Stubbe agrees, and changes the direction of her endurance road and gravel loops based on the wind: "I check the wind direction and speed and the time it's forecasted and plan around that. I hate a headwind on way home, so I end my ride with a tailwind—it's so much better mentally."
McElveen also notes that with because of higher temperatures, he's adjusted his 100-mile routes to include mileage at a higher altitude, which generally delivers a cooler feel.
"For cyclists that don't live in or near the mountains, choose roads or trails that are more shaded and less exposed to sun," like in a canyon, behind a mountain slope when the path is in shade, or through vegetation, says McElveen.
"Position significant climbs during the shadiest part of the day," adds Pockock, which likely means the morning or evening, rather than midday.
Also, if stormy weather is to the north, aim to head south, McElveen suggests. A weather radar forecast, on an app such as Weather Underground, can be a great tool to track precipitation, the type, direction, and time. (If there are suspected thunderstorms, you can also move your ride to another day—that's the beauty of an unsanctioned 100-miler.)
8. Map Out Pitstops
Rolling out for a remote self-supported 100-mile ride requires a different plan and mindset compared to adding resupply points along the way.
For La Classica, Stubbe's group carried water filters and mapped out where the creeks are located along the route, so the riders could top off their fluids throughout each day.
Including resupply spots at developed, urban locations bolsters not only support and security, but more adventure. "I think half of cycle touring in a non-race mode is about getting to see places along the way. Finding cool resupply stops, so that you're not going more than 45 to 50 miles without one, feels inspiring and special. The more I do it, the more I realized this is what makes riding a long route special—the intimacy with land and the people of the land," says Pocock.
Plan to roll past a local restaurant or ice cream shop when you know you'll want to enjoy a snack or meal or stop in a hole-in-the-wall pizza joint. Add a bike shop or coffee shop to the route, too, for new gear and a little pick-me-up.
Of course, the more rural a location is, the more challenging it can be to incorporate developed resupply points. In that case, look to plan your breaks at beautiful locations, like at the top of a climb, on a ridge, or next to open water.
9. Discuss Bail Points
It's always good to talk about the bail points beforehand, says Stubbe, be that due to a mechanical issue with a bike, injury, running out of food, or bonking beyond recovery. "The end goal is for everyone to do the entire route but anything could happen so it's good to know the terrain," she says.
A bail point could be a dirt road that intersects a mountain bike trail, which provides quicker access for emergency response or a faster return to either town or a pickup location, where you can call for a ride. Or, a bail point could be a section of paved road that a cyclist can more quickly exit, compared to gravel or dirt.
If you need to call for a pick-up or notify emergency responders, note that not all locations have cell phone service including established storefronts in rural locations. To avoid hangups, carry a satellite communication device.
10. Ask for Support
Century rides via gravel or road can easily accommodate a support crew. You could have a family member or friend meet you along the way to help boost the vibe and weave in a point to look forward to.
"I've done rides in the past where we pick a cool destination to meet for lunch or a coffee shop that they drive to and I ride to," says McElveen. The caveat: "If it's one of your first 100 milers, it'll be a big challenge to be mindful of the temptation of getting in the car and bailing," he adds. Consider setting a time limit on the meet-up, like 30 to 60 minutes, to help with that temptation.
Alternatively, consider having a friend or family member meet and ride with you for the last portion of the route, which brings fresh energy and motivation to the ride, says McElveen. That way, the final leg is more celebratory, because it's shared, he says.
11. Don't Be Afraid to Ride Solo
Tackling a 100-mile course with a group versus solo can be two totally different experience.
"With other cyclists, the hours melt away. The sense of camaraderie keeps you committed, and the group creates its own framework of accountability, which can go far in your first 100 miler," says McElveen. Stubbe agrees: "We are not breaking any speed records but it becomes about everyone being in this together," says Stubbe.
Though, after getting more experience, doing a 100-mile ride solo is an incredible experience, says McElveen, "because it offers an opportunity for self reflection and dedication in special way."
Even more so, riding a solo 100-miler sans music or podcasts in your ears can be a great way to plug into the surrounding environment and landscape. "Listen to everything around you and immerse yourself in the place. I've learned so much on long 100-mile rides without media input," McElveen says.