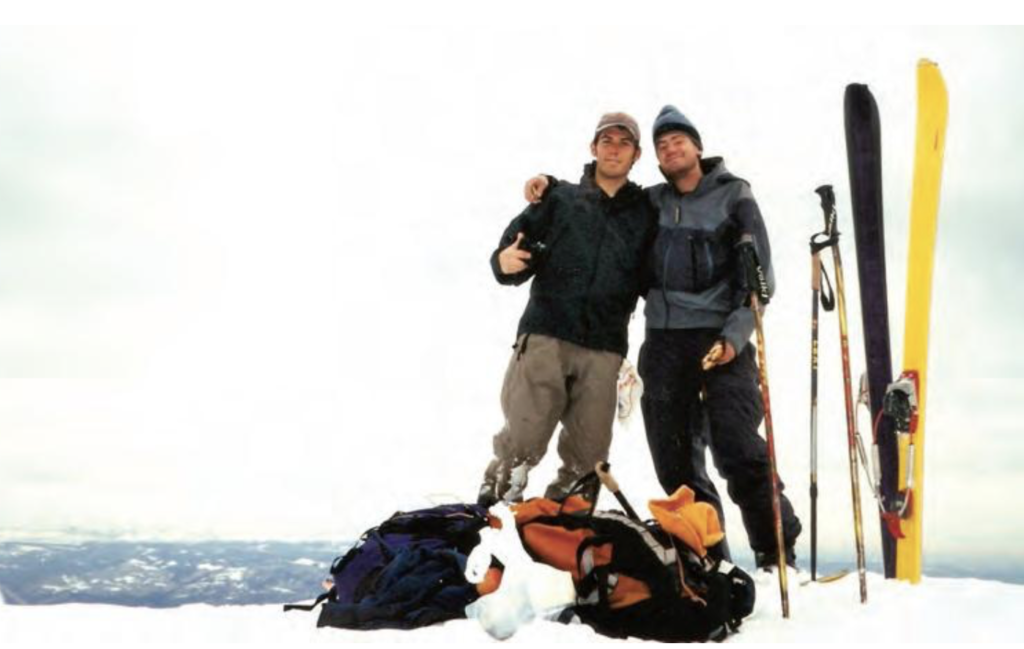 As a teen, Andy Sovick shared his backcountry photos and notes with fellow ski fanatics. Now he published benchmark guides on safely exploring avalanche terrain.
Crested Butte Magazine | November 2022
Read the full story in print in Crested Butte magazine and here:
LOCAL GUIDEBOOK PUBLISHER ANDY SOVICK VENTURED EARLY INTO THE OUTDOORS.
By Morgan Tilton
Raised in Fort Collins, Sovick bouldered solo at the nearby Tropics crag as a teenager and enrolled in kayak classes. He and his family took occasional day trips to Front Range ski resorts, but backcountry skiing, as obscure as the sport was at the time, was more financially and logistically accessible to Sovick. Fortunately, he met an avalanche course instructor who needed a ski partner and took Sovick under his wing, becoming a foundational mentor.
"I learned important safety pieces from a professional perspective and got to ski cool stuff as a teenager, which was rare – there were no kids at my high school interested in that kind of thing. I had a vision of getting more into mountaineering and skiing, and I was dedicated," said Sovick. In 2010 he landed at Fort Lewis College in Durango, where he could boat, climb and ski in the San Juan Mountains. He quickly found a backcountry crew to dawn patrol on Red Mountain Pass before 9:30 a.m. class. They toured Coal Bank and Molas passes and around Silverton with no one else in sight.
"We were not by any means doing something new, but it felt that way, like we were at the frontier," said Sovick, who was still on telemark skis at the time. "At parties, we'd discuss what we'd seen, where everyone had gone, and share notes. We knew what a serious situation it was to be skiing around avalanche terrain like that, and we were excited about the education side."
Sovick and his tour partners used disposable cameras to take photos (up close or from across the valley) of slopes they skied or wanted to ski. They'd pick up the prints from Wal-Mart to organize in a three-ring binder, with labels, scribbles and invented names of runs. Those binders were the earliest seed of Sovick's current business, Beacon Guidebooks.
"IT'S CARRIED PAIN AND RISK LIKE ANY BUSINESS VENTURE. IT'S BEEN A TOTAL ROLLERCOASTER THAT I WOULDN'T TRADE FOR ANYTHING."
Left: Andy Sovick and buddy Matt Steinwand in the San Juans in 2001. Right: Andy, Gail and son Walker.
"All our friends were using those. We were trying to make good decisions in avalanche terrain. We thought, 'Wouldn't it be great if we made and printed a couple dozen of these some day for friends?'"
During his senior year in college, Sovick met a fellow skier named Gail, and one of their earliest dates was skiing a line on Red Mountain Number 3. One of their cars broke down, and yet the day was perfect, recalled Sovick. By 2005, Gail completed a one-year masters program in Alaska while Sovick post-collegiately ski bummed and couch surfed in the Tetons. When she secured a job teaching Spanish and art at the Crested Butte Academy, Gunnison Valley became home for the couple, and the backcountry skiing was no compromise, Sovick found. The following year, he proposed to Gail in Poverty Gulch before she left for a summer guiding gig in Denali State Park.
"I was building houses in the upper Slate River area throughout summer and winter, and that was the last summer it was as rainy as it's been in 2022. I was living out of my truck, camping in a tent, and no one else was up there. My food was in my cooler. It was so rainy my gear started to mold in my tent. It was awesome," said Sovick. He'd majored in sociology, political science and Spanish, but Crested Butte was in a building boom, and he'd come from a long line of manual laborers. Then 22 years old, Sovick had learned carpentry and architecture skills from his dad, so he worked his way up the ladder under contractors for eight years, learning the trade from foundation to trim.
The 2011 recession opened up an opportunity for the Sovicks to purchase a home in Gunnison, after having their son, Walker, who is now 11 years old and who, thankfully, loves alpine skiing.
"We are tentatively getting him into backcountry skiing. Now with avalanche education, and as you get older, you see more accidents and lose more people, it becomes that much more nerve-racking to raise a child in the backcountry," said Sovick.
Alongside building homes, Sovick printed the original backcountry ski guidebook for Crested Butte in 2013. A college buddy, Brady Johnston, had made one for the Targhee side of the west Tetons, which was staple bound with aerial photos and basic information, including route and trailhead names. Sovick asked if he could steal Johnston's format. Another local carpenter and photographer, Chris Miller, jumped on board to capture images. "We found a Cessna pilot willing to take us up for free. We flew over the Elk Mountains on a bluebird day with no wind in February. I still remember like it was yesterday," said Sovick.
The inaugural 36-page book was saddle stitched and covered 11 zones and 50 descents. Then, as now, each route's information is based on how students are taught to study avalanche terrain in a certified course: elevation, aspect, exit options, a brief description of the descent, and trailhead location. "If you're very new or you shouldn't be out there, this book would feel underwhelming. For a proficient skier and someone who has a good sense of the area, this format has the right amount of information for them to make better decisions," said Sovick.
Despite finally creating what he'd envisioned, he didn't yet believe in the full potential of publishing guidebooks for backcountry travelers. "From an entrepreneurial mindset, I had a small sense of hope and desire to turn this side project, which profited enough to buy a new pair of skis, into a viable business. It didn't seem like a rational option to support a family. I was running a contracting company doing fix and flips and didn't know anything about publishing."
But after Backcountry Skiing Crested Butte, Colorado hit shelves, he got a phone call from a professional ski guide in the Seattle area who
wanted to replicate the guidebook for Snoqualmie Pass. The big picture clicked. "Suddenly it occurred to me that there was something I didn't see anyone else doing. I started taking it seriously and helping pros take their own zone to the market while removing the risk of printing, cartography, marketing, sales and distribution," Sovick said.
Today, Beacon Guidebooks has grown to six employees. By the end of 2022, the company will have published 15 ski atlases, 13 maps, an avalanche search and rescue backcountry field guide, and a children's book called Squeak Goes Backcountry Skiing. The guidebook collection includes covers on Colorado's Loveland and Berthoud passes, Silverton, and sledskiing on Buffalo Pass, in addition to Olympic National Park and Mount Baker in Washington. Last year, Colorado-born author and ski legend Lou Dawson (many know his mother Patricia Dawson, a longtime Crested Butte artist), who became the first person to ski all of the state's 14,000-foot peaks in 1991, updated Light Tours of Colorado. This guide serves the shifting demographic of backcountry skiers: newcomers of all ages, such as parents with kiddos, folks seeking exercise and solitude over riskier gnarly descents, and aging veterans. The guidebook features the top low-angle, avalanche-safe terrain across the Centennial State.
"To have a fun booklet – and an itch that I wanted to scratch – turn into an industry standard for tools for traveling in avalanche terrain is not what I could have predicted," said Sovick. "It's carried pain and risk like any business venture. It's been a total rollercoaster that I wouldn't trade for anything."
The growing demand for educational backcountry resources has paralleled the surge of winter recreation and the advancement of technology, reflected Sovick. Over the past decade-plus, ski and splitboard equipment has become more innovative, lighter and more user friendly, helping to revolutionize snow sports. Snowmobile mechanics improved, the state expanded road plowing, more trailheads were established, and the state's population ballooned. Avalanche education has become more standardized, refined and available. All of those variables have helped to draw more people into backcountry exploration.
Sales for the basic equipment, including beacons, shovels, probes, alpine touring gear and splitboards, rose by 76 percent nationwide at the opening of the 2020 winter season, according to market research group NPD. Participation in avalanche-safety courses statewide also surged. Irwin Guides grew their lineup of recreation courses by nearly 40 percent for the upcoming season to meet the burgeoning student need. North of Denver, participation in Colorado Mountain School's level one avalanche course increased threefold. "There's lots of money in the sport now, and if you'd told us back then that large venture capitalists would be investing in backcountry skiing, we would have laughed," said Sovick.
The uptick of popularity in 2020 came with a rise in lives lost, too. The Centennial State and the U.S. as a whole recorded their highest number of avalanche fatalities, with a dozen deaths in Colorado and 37 nationwide, reports the Colorado Avalanche Information Center. The nationwide number of people lost to avalanches went down in 2021. However, sometimes the publishing team, in providing local information on backcountry ski terrain, experiences pushback from other skiers due to safety concerns, a sense of lost solitude or crowdedness.
"I feel the growing pains like everybody else," Sovick said. "However, it's public land, and we're all occupiers of native land. At the end of the day, none of us is more entitled to this recreation land than anyone else. With that in mind, we might as well share and recognize the futility of trying to stop something we can't stop."
Sovick likened sharing terrain beta to sex education for adolescents. "Secrecy as a policy for abstinence doesn't work, and it's the same with keeping people out of avalanche terrain. They're going to figure it out, and we have an opportunity, obligation and responsibility to give important information that might save their lives. Withholding that information in the past has contributed to otherwise preventable accidents."
Beacon Guidebooks publications highlight the most commonly covered backcountry ski routes. Those locations are often more developed, with attributes such as established trailheads and parking lots, which is where it's important to share information that helps travelers and land managers with issues like traffic or waste management. "We certainly leave a lot up to the explorer who wants to go off the map. It's important to allow and remind people that the adventure side of backcountry skiing is beautiful. We hope people will explore new areas and be alone in wildness," said Sovick.
As Beacon Guidebooks approaches its 10-year anniversary, the foundation of the mission remains the same. Sovick said, "We try to provide decision-making tools for backcountry skiers, reliably and responsibly. And we're obsessed with making the guidebooks beautiful."