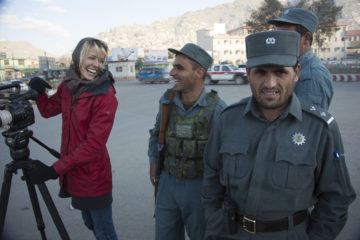 The award-winning documentary Frame by Frame takes an unprecedented approach to sharing the lens of four Afghan photographers in their passionate pursuit amidst life-threating danger. 
Womens Movement | March 29, 2016 
By Morgan Tilton
Click here to read the story on the Womens Movement website
Not too long ago, Afghanistan's freedom of press was shackled by Taliban rule. Photography was banned, secular radio was muted and television programming was forbidden from 1996 to 2001. One sole religious radio station, Voice of Sharia, was aired with rigid guidelines. Visual expression and media is now legal—close to three-quarters of civilians tune in to some 174 different radio stations as a primary news source, according to the United States Institute of Peace—still yet, journalists are stuck in a stormy sea of challenges and, for some, life threatening perils.
In an unprecedented approach, Frame by Frame—an award-winning feature-length documentary directed by Alexandria Bombach and Mo Scarpelli—constructs a portal into the lenses of four unyielding Afghan photographers. Amongst the film's accolades, the 2015 production has received the Harrell Award for Best Documentary Feature from Camden International Film Festival and Port Townsend Film Festival's Best Feature Documentary. Not to mention, the groundbreaking narrative is the duo's first-ever co-directed and feature-length project. The film inspires audiences to want to know more: Today, Afghanistan's legislation claims to protect free expression—at least in writing. The 2009 Mass Media Law defends journalists' rights and, as of 2004, the Afghan Constitution guarantees freedom of expression and access to information.
Unfortunately, 2014 marked the bloodiest lash against journalists to date. Eight journalists were killed. More than 125 were detained, beaten and threatened. Nai—an organization that supports open media in Afghanistan—surmises that the violent acts have been partially fueled by the recent presidential elections, a deterioration of security, and an increase of Taliban terror attacks. With tact, Frame by Frame courageously chronicles the personal narratives of world-renowned Afghan photojournalists including Farzana Wahidy, Najibullah Musafar and Massoud Houssaini. Massoud, a Pulitzer Prize winner, was granted the award for the preeminent image he captured of 12-year-old Taran Akbari adorned in vibrant green dress, screaming, immediately after a suicide bombing at Abul Fazel Shrine. Through individual stories, such as Massoud's, the film fiercely humanizes the struggle and persecution that's afflicted Afghan photojournalists and the unrelenting determination required by them to document the world, frame by frame.
Here, I spoke with filmmaker Mo Scarpelli about the production process, relationships, and successes of creating Frame by Frame. 
How long were you filming in Afghanistan?
In 2012, we were there for two weeks and met the photographers. Then, we raised $70,000 on Kickstarter (our goal was 45,000), and went back for six weeks to film in October 2013. We finished [the film] in March 2015.
How were you introduced to your subjects?
The film covered four individuals. Neither of us were used to more than one subject, so it was quite a lot to include, but we wanted to paint a wide breadth of experience. Massoud Hossaini's work has been published around the world. He's super open; it was a matter of getting him for an interview, because he's interviewing all the time. Farzana Wahidy is the only woman doing what she's doing at this time—she has an amazing series on burqas. You can't talk about photojournalism without hearing about Najibullah Musafar: He has been a relic since the Taliban fell, and he's the only person we could find who was shooting during the Taliban even thought it was outlawed. He runs a photography center and is educating the rising generation of journalists. We were drawn to the spirit of Wakil Kohsar. He was working at a TV station and wanted to become a full-time photographer. The first time we met Wakil, he said, "I'm going to photograph heroin addicts under the bridge. Do you want to come?"
What kinds of precautions did you need to take while filming?
It's an active warzone so violence is sporadic, but we had the best team ever. We worked with a guide and driver. It was the four of us in a white Toyota, staying under the radar. We worked with a journalist who was on the radar to know where not to go and how not to act. They were incredibly hospitable and honest with us, like if we were running toward a suicide attack.
What was it like working in Afghanistan as a female journalist?
It was a benefit for us to be foreign women in the filming process. The culture really segregates men and women, but we were treated like a third gender and could walk into either room. We were never held to the standard that Farzana was held to: We were simply 'white women following a man'—if we were Afghan women it's a different story. And the only reason we had access to [the woman Farzana interviewed, a burn victim] is because we were women.
Farzana's autonomy is striking. Is that quality unusual for an Afghan woman?
I can't speak to most women's experiences. I can speak to what Farzana is and the things we hear about Afghan women. We do hear stories about how women have to ask permission, but Farzana doesn't work that way. She's a force of nature within her own realm. She's very independent, she's constantly working, and she has this resilient spirit to do what she loves. Her dad is a very modern guy and was very supportive of her learning English and doing what she loved. And, she supports him in this fifty-fifty, quality way.
Have you stayed in touch with the photographers in your film?
Massoud and Farzana came for the international screening at Hot Docs Canadian International Documentary Festival, and the film was voted by audiences as a Top 10 favorite out of more than 200 films. All four subjects came to the Seattle International Film Festival and Telluride Mountainfilm. We got to spend a lot of time with them and hear first-hand that things are getting a lot worse for journalists. 2014 was the deadliest year for journalists in the history of Afghanistan. It's been really rough. The Taliban took over Kunduz and has an interest in suppressing information and keeping journalists from sharing—recently even, there have been attacks at media offices [including an explosion at the Saanga local radio station, and in another instance] a journalist was killed in Faizabad. We talked over questions, like, How can we get this film back to Afghanistan and how do we take your security into consideration? They also got to experience a crash course on American culture—they got a lot of culture via the invasion, but it's different being here amongst civilians.
Will you still show the film in Afghanistan?
We're still figuring it out. We'd be doing very, very private screenings (to help keep the film under wraps) for politicians in Afghanistan.
What about U.S. politicians?
We don't have a political campaign. We want people to take from it what they will. We do think it's important for people who work within Afghanistan to hear the voice of these four people to help put a face on the statistics and to help inform policy and agenda for media aid. We are working on arranging a screening for the Department of State, and delegates have shown up at various screenings in DC, including one at the Woodrow Wilson International Center for Scholars and another at AFI DOCS.
What does the future for Afghan photographers look like? 
Some media laws have passed that are hopefully helping, but the attacks are more now than ever before. The economy isn't doing well. There's less financial security to support journalists and fewer jobs for journalists. We're going to see it get worse. But the four photojournalists we have included in the film are devoted to shooting and telling stories; they have a strong compulsion to continue documentation no matter what.
What was the greatest challenge of producing this film?
The responsibility that we had for these four people. The film was about four human beings—it wasn't about an issue or history. You are basically taking a sliver of their lives and have to represent them in the most honest way. It was important to speak to who they are and why they do what they do, and what they hope for Afghanistan, while considering their security. Our interaction was very brief. Some filmmakers spend years and years with their subjects. We wrestled with it and took it very seriously and we wanted it to do them justice.
What inspired you to work on this challenging story?
Initially, I was inspired to do something on journalism, because I come from that background. The background of storytellers can be really compelling, especially when they're patient, like these ones. Then, I felt compelled by these four people; they were really honest. Once someone says, "Show anything you want," it's hard to not be excited about what's possible, and being able to tap into the humanness of them really gave us full reign.
What's been the most fulfilling piece for you?
That's really hard to say—this film really ripped us apart in a big way. It wrecked us as people and broke us down into understanding how to make a feature-length film. One fulfilling part was the excited response that [our subjects] had at the screenings. Seeing the look on their faces, going on stage with them, and speaking to what they thought we were doing [in the film] and how we were doing it. Also, we had goals for what we wanted people to think about when they leave the theatre. We wanted people to think, 'this is why journalism matters,' and I think people are getting that: they're asking a lot of questions and are more engaged about what's going on in Afghanistan. It's like, Oh my God, the film is doing what I wanted it to do! We spent eight months figuring out how to get it there.
How did you change through this project?
It was a crash course on collaboration, story craft and narrative arc. I also have a tendency to want to finish something and move on. I realized it's really important to step back, diligently only work on one thing, and slam your head against the wall. Patience is informative. Also, with a journalism background, I had this sense of being removed from subjects as a documentarian and to not form a relationship outside of the filming. I realized that was bullshit—the documentary process is a really amazing, strange, cathartic process and it's important to be open to the relationship as a part of the process.
Don't miss the next showing: See where Frame by Frame is screening.